Exciting News! 4 State Trailers is now your local source in Fairland, Oklahoma for the top quality, first class, 4 Star Trailers! We are proud to represent this industry leading line of aluminum trailers! Our 4 Star trailers are the same as everyone else offers, but at more aggressive pricing! Call today for a quote on your dream trailer!
         4 Star has been manufacturing the finest aluminum horse, livestock, car, and living quarters trailers on the planet since 1984! Two of the original partners still own the business! The continuity of vision for building the best aluminum trailers has brought about a number of improvements over the years, and the 4 Star Trailer of today is more rugged, durable, long-lasting, beautiful, and functional than ever before! These trailers are seriously over-built (but still light weight!) Click the photo of the Wolf in Sheep's Clothing below to read an article with more details on the changes in manufacturing that have kept 4 Star on the cutting edge of trailer technology and durability!
         4 Star uses .063" thickness aluminum  side sheeting exclusively now! That is over 1.5 times as thick as the industry standard of .040". They also use a 3/16" one piece aluminum gooseneck drop in lieu of the 1/8" thick multi-piece drops found on most gooseneck trailers. They also offer a wide range of option sets from the durable, no frills 6'10"wide Runabout line, to the top of the line, highly customizable Deluxe line of horse and stock trailers. The top rail with inside structural web, and the super strong bottom rail with heavy duty 4" I-beam crossmembers make for the sturdiest frame of any aluminum trailer on the road! 4 Star isn't ashamed of how tough their trailers are either; they back them with an 8 year structural warranty!!
        4 Star offers Quiet Ride in straight load horse trailers! This prevents the noise and clatter in the back of a standard horse trailer! See the video below for more information.
        W.E.R.M. floors (We Eliminate Rubber Mats) are also available in any trailer from 4 Star! This is a specialty floor covering that is troweled in 5/8" thick over 4 Star's marine grade aluminum floor and becomes a permanent sealed covering on the floor that reduces noise and offers cushion to your animals while still being exceptionally easy to clean out! They also offer repair kits to blend back in a damaged area if needed! Check it out by clicking on the WERM logo below.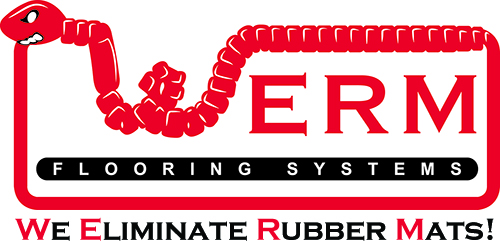 4 Star teams up with the best names in LQ conversions! Trail Boss has been doing this a long time, and we recommend them. Click on the logos below to learn more about  4 Star and Trail Boss!